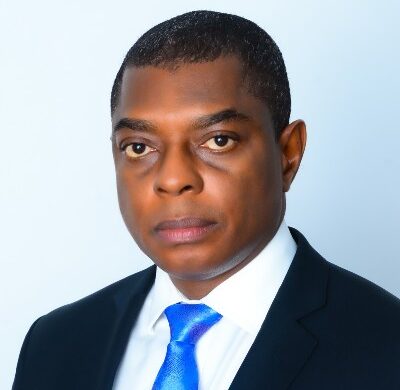 University of Jos – LL.B, 1991
Nigerian Law School – BL, 1992
Called to the Nigerian Bar, 1992
Audu Anuga, SAN - Partner
A thoroughbred lawyer of over 26 years of practice, Anuga joined the firm in 2003. As a Partner, he assists the Principal Counsel in the leadership, coordination and general oversight of work at the firm for quality output of the firm's services to clients.
Mr. Anuga has been engaged in a wide array of litigations, arbitrations and legal advisory services in transactions as Counsel representing both individual and corporate clients as well as public institutions in various sectors of the economy.
He has garnered expertise over the years in telecommunications, electricity, corporate insolvency and election matters litigation and advisory. He is currently the Lead Counsel in a construction arbitration, and Counsel in a transaction for the development and financing of a premier housing estate in Abuja.
He is a Capital Market Solicitor, certified by the Securities and Exchange Commission, and also serves as a non-executive director on the Board of Layer3 Limited, a Nigerian telecommunications service provider. He has also accepted an invitation to serve as a Member of the FCT Area Council Election Petitions Tribunal, where he brings to bear his vast Election Matters litigation to post election adjudication.
Legal Consultant on the drafting of Licensing Regulations for the Nigerian communications industry.
Legal Consultant on the drafting of Enforcement Regulations and Enforcement Guidelines for the Nigerian Electricity Supply Industry (NESI), which required an in-depth assessment and evaluation of the workings of the electricity industry.
Legal Consultant on review and renegotiation of joint venture agreements in respect of the operation of oil mining leases, and have also advised on recovery of investments in such joint ventures.
Legal Consultant on the licensing of the Second National Operator (SNO).
Legal Consultant in collaboration with an international telecommunications law firm under a World Bank assisted consultancy on the regulatory framework for the communications industry, spanning the following:

Quality of Service Regulations
Consumer Code of Practice Regulations
Competition Practice Regulations
Universal Access Regulations
Equipment Certification Guidelines
Numbering Plan Regulations
Internet Service Guidelines
Mobile Virtual Network Operator (MVNO) Licensing Process
Determination of Dominance in Nigerian Telecommunication Market

Advised an investor in the energy sector on its proposed project for development of electric power infrastructure, its foreign technical partners, the Federal Government of Nigeria, and the Transmission Company of Nigeria (TCN).
Legal Consultant for the enactment of the Universal Service Fund Bill 2004 and the Mobile Phone (Restricted Places and Circumstances) Bill 2004.
Company Secretary to a premium hospitality company in Nigeria.
Acted as Counsel to the President, Senate President, Governors and Members of the National Assembly in series of election petitions in Nigeria.
Counsel in several matters in connection with the constitutional law and the public revenue.
Member, Nigerian Bar Association
Member, Capital Markets Solicitors Association